SDI


Portfolio
SDI operates through a number of brands: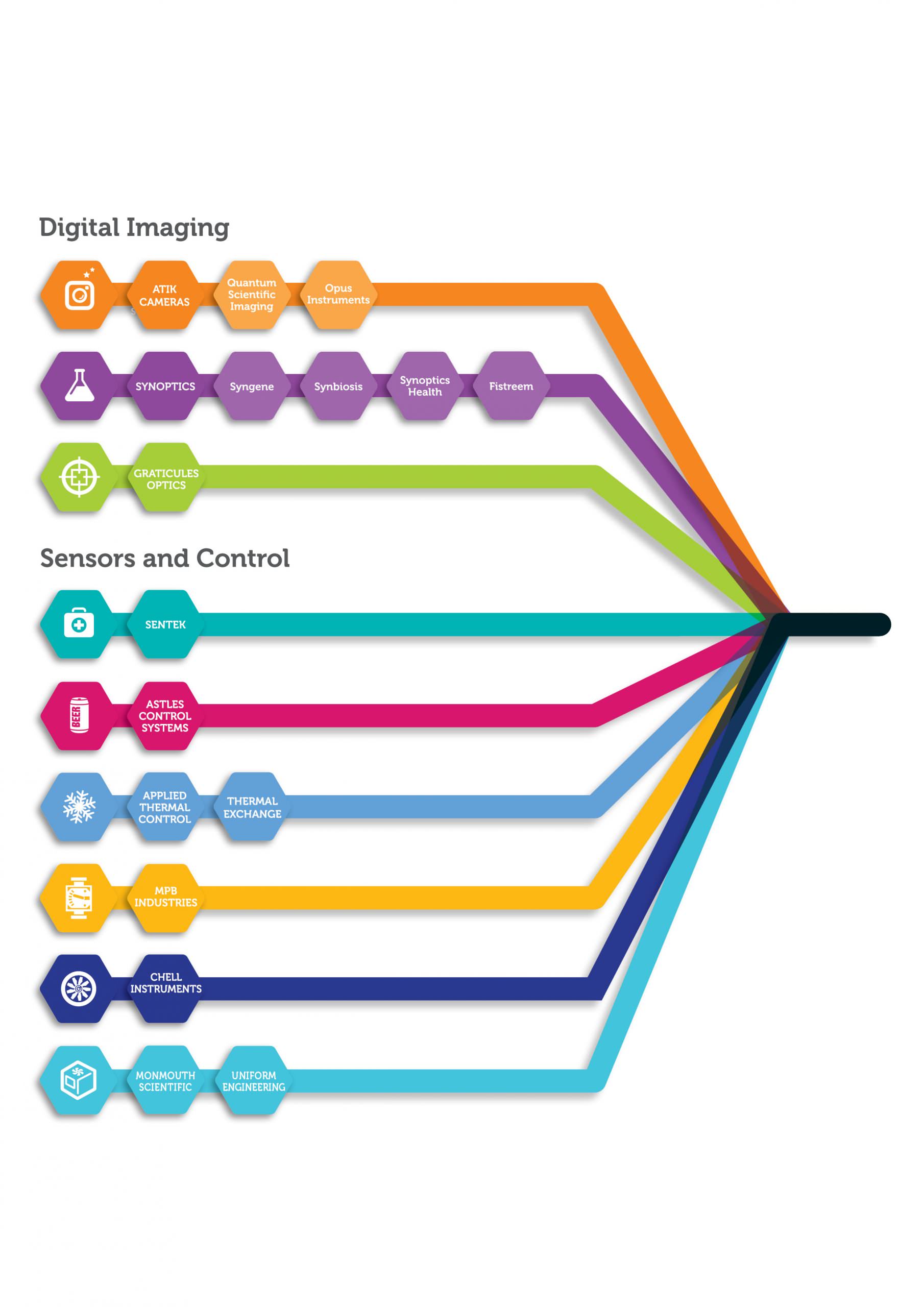 Syngene
Syngene produces equipment for life scientists to image and analyse electrophoresis gels used for DNA and protein analysis.

Synbiosis
Synbiosis produces equipment for microbiologists to automate microbial colony counting.

Synoptics Health
Synoptics Health focuses on imaging techniques within the clinical environment.

Quantum Scientific Imaging
Quantum Scientific Imaging – design and manufacture scientific cameras for applications that require superior imaging performance such as astronomical, life science, research and industrial imaging.

Opus Instruments
Opus Instruments are the team behind the Apollo and Osiris cameras, world leaders in the field of infrared reflectography (IRR). Opus' cameras have been used to examine thousands of artworks at leading auction houses, galleries, conservation studios and educational establishments worldwide making notable contributions within the fields of art conservation, preservation, restoration and art authentication.

With a background in optical technology, Laurence Robinson founded Opus Instruments after consulting with the National Gallery (London) on updating their system for the infrared inspection of paintings. In 2014, Opus Instruments joined the SDI Plc group who have experience with imaging systems from cell research to astrophotography. In 2016, Opus joined forces with another member of SDI Plc, Atik Cameras, the leading European manufacturer of CCD cameras used in scientific and astronomy imaging.

Opus is based in the city of Norwich, England. Here, we design, develop and support our cameras. All camera production takes place in our ISO 9001 accredited facilities in Lisbon, Portugal


Sentek
Sentek manufactures and markets off-the shelf and custom-made electrochemical sensors for water based applications. These sensors are used in laboratory analysis, in food, beverage and personal care manufacture, as well as the leisure industry.

Astles Control Systems
Astles is a supplier of chemical dosing and control systems to different manufacturing industries including manufacturers of beverage cans, engineering and motor components, white goods, architectural aluminium and steel.

Fistreem International
Fistreem International designs and manufactures water purification products and vacuum ovens.

Applied Thermal Control
Applied Thermal Control designs and manufactures precision re-circulation chillers, coolers and heat exchangers used to control the thermal environment within a wide variety of applications including within the scientific instrument support market (including electron microscopes, X-ray, diffraction and mass spectrometers.

Thermal Exchange
Thermal Exchange manufactures and maintains heat exchangers, coolers and chillers to the Industrial, Medical and Scientific markets. The company designs and provides cooling solutions for it's customers.

Graticules Optics
With a pedigree going back over 70 years, Graticules Optics is a proven world-class designer and manufacturer of precision micropattern products. Graticules Optics is unique in offering photolithographic products on glass, film and in metal foil, with the added bonus of coatings, cementing, mounting and small optical assembly.

MPB Industries
MPB designs, manufactures and sells a range of flowmeters and control instrumentation with applications in water treatment, power generation, gas and oil production, human medical anaesthesia, aviation, pharmaceutical, pollution control, scientific analysis, educational and many other areas.

Chell Instruments
Many of Chell's solutions incorporate instruments and components such as thermal mass flow meters and controllers and capacitance manometers produced by their Principals, with all of whom Chell have enjoyed long-standing relationships. In many cases, where their customers identify gaps in product ranges, Chell has developed solutions to fill those gaps – Leak Rate Monitors for the Power Generation industry is an example.

Atik Cameras
Atik Cameras designs and manufactures highly sensitive cameras. These are marketed for life science and industrial applications under its Artemis brand and for deep-sky astronomy imaging as Atik cameras.

Uniform Engineering
Uniform Engineering's team of expert precision metal manufacturers have a wealth of experience in providing the highest quality, bespoke metalwork solutions for Commercial and Industrial sectors.

A trusted partner in precision metalwork and bespoke fabrication for decades – our innovation and technical knowledge is exceptional.

Monmouth Scientific
Monmouth Scientific Limited are one of the UK's leading designers, manufacturers and suppliers of Clean Air Solutions.

They specialise in Filtration Fume Cupboard and Ducted Fume Cupboard installations alongside Laminar Flow and Class II Biological Safety Cabinets.

Synoptics
Synoptics designs and manufactures scientific instruments based on digital imaging, for the life science research, microbiology and healthcare markets